Compressors
Providing critical solutions for severe service applications is our forte, specializing in design assistance for applications found throughout the oil & gas industry. Our priority is to solve our customer's problems in demanding environments such as extreme temperature and pressures, corrosive media, low emissions, and high abrasion. OHI provides proven solutions for compressor components found in the harshest environments and applications.
Compressor Products
Compressor Rod Packing
OHI manufactures high quality compressor rod packing to tight customer expectations. Utilizing industry proven materials for lubricated reciprocating pistons, our manufacturing process creates parts which not only meet ultra-stringent light tightness requirements, but also some of the industries tightest dimensional tolerances. The result: rod packing that performs more consistently from one lot to another and allows for more reliable maintenance scheduling.
With standard internal designs, OHI can design cases and rod packing for your lubricated compressors or can make to your internal specifications.

Packing Ring types offered:
Radial
Tangent to Rod
Step Tangent
Segmented Backup Rings
Solid Backup Rings
Pressure Breakers
Oil Wipers
Standard rod packing materials offered by OHI include:
Carbon/Graphite PTFE
Glass/Moly PTFE
Carbon Fiber PEEK
Tinnized Steel (Backup Rings & Oil Wipers)
We also have the ability to offer custom blends or match customer material requirements when it comes to material formulation.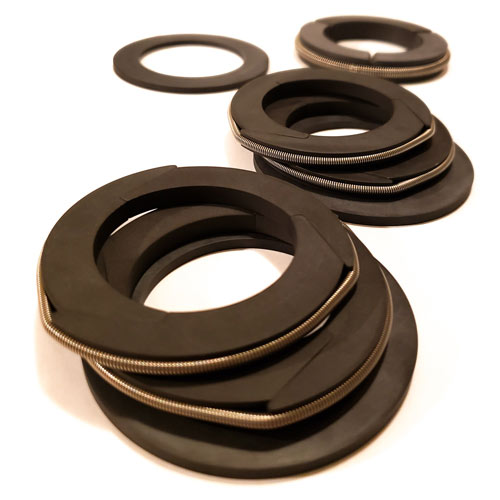 Packing Cases
OHI not only designs and manufactures rod packing; we also work with our customers to provide complete cases for drop-in replacements during rebuild. This allows for single sourcing of the entire rod sealing system. Our designs can include ports for lubrication, venting, and purging.